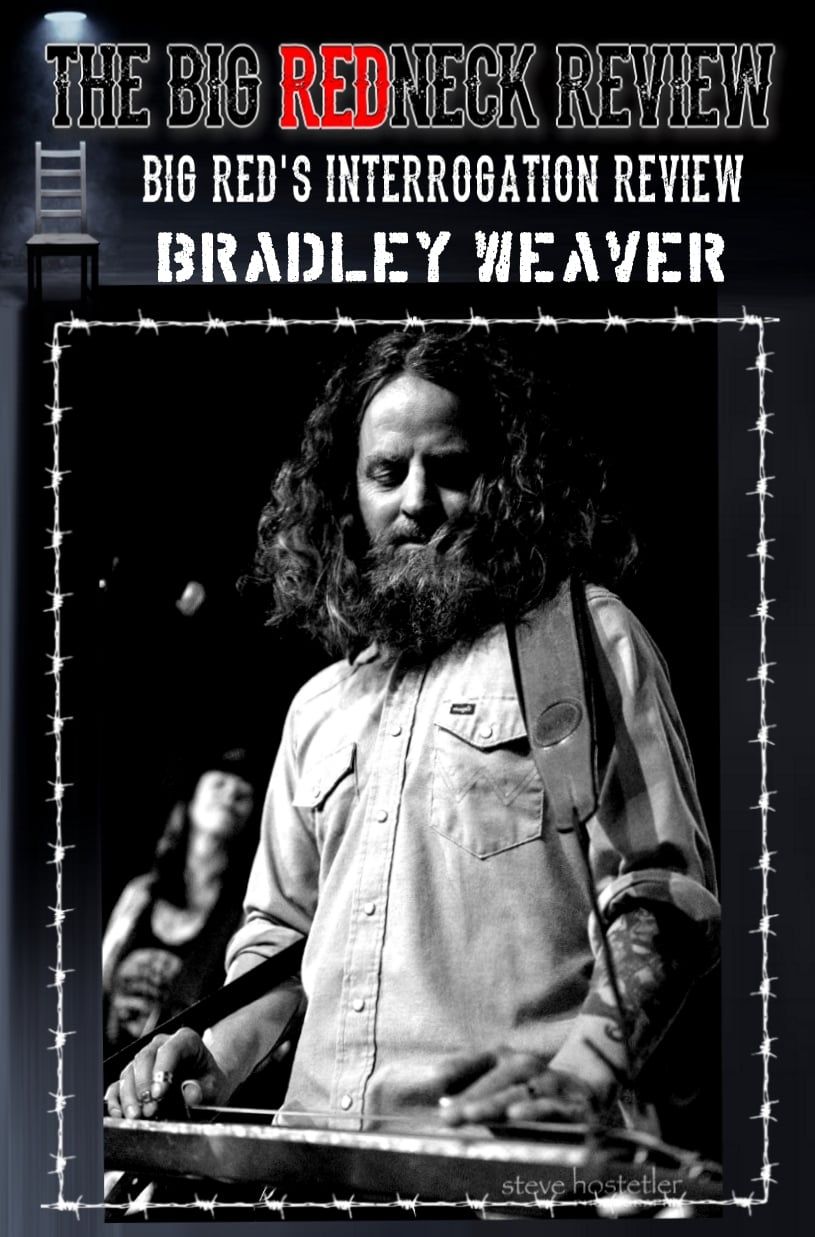 I was recently interrogated by Big Red, for his BigRedneck Review.
Big Red found me through my old band 'Ryan Chrys and the Roughcuts.'
This is probably the most in-depth interview I've ever done, so enjoy. Here's how it went down.
HAVE YOU EVER BEEN INTERROGATED BEFORE?
No and I'll thank you for getting that light out of my eyes.
WHERE WERE YOU BORN AND RAISED? WHAT IS ONE OF YOUR FONDEST MEMORIES? WHAT DO YOU MISS THE MOST ABOUT IT?
I grew up in Bethel, PA. It's a tiny farm town about an hour and a half from Philly. So many great memories, but one has got to be riding our bikes everywhere… all day… every day.
WHAT WHEN AND WHERE WAS YOUR FIRST GIG?  
My first public performance was at an open stage at East Stroudsburg University in Pennsylvania. ESU is a dry campus, so they had a 'club' called 'Mocktails.' There were about 10 people there and I vaguely remember playing one original tune (that I've long since forgotten) and then butchering 'It's a Shame About Ray' by the Lemonheads.
PERFORMING LIVE IS AWESOME WHEN EVERYTHING RUNS SMOOTHLY… WHAT ARE SOME OF YOUR EXPERIENCES THAT WEREN'T SO AWESOME THAT YOU JOKE ABOUT NOW?
We (the Rough Cuts) were doing an afternoon gig in a closed parking lot behind the former 'Casselman's.' I'm not sure what the event was or why we were there, but we were slugging through our set for about a dozen spectators when a car (which I guess had been parked there before they closed the lot), decided it was time to leave and backed right into the crowd and backed over a woman right in front of the stage. (I should note that the woman walked away with minor injuries.) Needless to say, we stopped the set, packed up, and went home. So, I would chalk that up as a pretty bad show and one I probably won't be joking about.
IF YOU WERE TO ATTACH A SUPERHERO OR CARTOON CHARACTER TO YOURSELF WHO WOULD YOU BE AND WHY?
Hmmmm. Garfield seems to have a pretty sweet gig. I'm pretty sure I could get on board with his lifestyle.
WHAT IS THE MOST UNUSUAL/EMBARRASSING SONG YOU SING INSIDE YOUR HEAD THAT YOU DON'T WANT ANYONE ELSE TO KNOW ABOUT?
Whenever I hear the phrase 'halfway there' I immediately default to Bon Jovi's 'Living on a Prayer.' Not sure it's embarrassing, but I only sing it out loud about 65% of the time.
WHAT IS YOUR MOST MEMORABLE MOMENT ON STAGE?
So many, but here's a standout: Rapid City Public Library. (Didn't expect that one, did ya?) I do several different programs such as 'The History of Musical Instruments,' 'Story Time,' 'Super Fun Concert,' and 'Let's Write a Song.' This was my first time doing the songwriting program, in which I spend about 15 minutes discussing songwriting (inspiration, structure, chord progressions, etc). That leaves about 35-40 minutes for us to write a song together and perform it. For my first workshop, I was expecting just a few people, but over 70 people (kids and parents) showed up! I was quite nervous, but I dove straight in and everyone came along. Once we got rolling, it just clicked and everyone, young and not so young, contributed. We came away with a fun little tune called 'Recess.' (Listen to 'Recess') The 'Write a Song' program has since become my favorite.
ASIDE FROM BEING A KICK ASS MUSICIAN FOR OVER 25 YEARS, TOURING WITH RYAN CHRYS AND THE ROUGHCUTS, YOU ALSO HAVE A FEW MORE MUSICAL SIDES TO YOURSELF THAT I FIND VERY INTERESTING AND COMMENDABLE . YOU HAVE TWO ALBUMS UNDER YOUR ALTER EGO- SONNY TRENCH FOOT. YOU JUST FINISHED A BOOK "LET'S PLAY GUITAR" AND YOU ALSO ENJOY WRITING CHILDREN SONGS. EXCUSE ME, I SHOULD USE YOUR WORDS "FAMILY FRIENDLY SONGS"
There is such a negative connotation to the phrase 'children's music' (visions of Barney the Dinosaur!) so I've taken to the term 'family-friendly'. I always keep the parents in mind, as they will have to listen to the tunes over and over, so I try to write tunes that are musically pleasing for all ages with lyrical themes meant to entertain and educate.
On a related note, yes I have written a guitar instruction book called 'Let's Play Guitar'. It's a guide for parents to learn guitar with their children. I also created several free videos as a companion to the book. I've also recently released a coloring book based on my songs/lyrics called 'Fill the World With COLOR!' Families have been having a lot of fun with the book and I love when they send me photos of the pages their children have finished. I was also inspired to create some word searches and other fun activities that you can find on my website.
 As for my alter-ego 'Sonny Trench Foot,' a few years ago, when my son was a baby, I would grab the guitar and make up riffs for him. If he seemed to take a shine to a riff, I would record it on my phone. Soon I had enough ideas to record an EP. I wanted to come up with a moniker to separate the new tunes from my family albums, so I revisited an alias I had used once before. When my wife Sami and I had only been dating a few months, we were talking about music and my harmonica playing came up. She was getting ready to leave for a trip and jokingly told me, 'why don't you write a harmonica song for me?' Well, that night I wrote and recorded a very vintage sounding blues tune, vaguely about her, and sent it to her, saying I had discovered this old blues artist, 'Sonny Trench Foot.' I think it took her about 45 seconds to realize it was really me!
WHERE WERE YOU AND WHAT MADE YOU DECIDE TO WRITE A CHILDREN'S SONG? WHAT WAS THE NAME OF THE FIRST SONG YOU WROTE?
About 13 years ago, for my niece's 2nd birthday, I decided to write her a few songs. I wanted each song to be a small lesson wrapped in a catchy tune. The first tune I wrote was called 'Let's Go Outside and Play.' The next was 'Sunshine Cream' (about the importance of sunscreen). The third was a tune about sharing called 'If You Have Two.' I recorded some simple guitar/vocal tracks and her reaction, in addition to that of her parents and grandparents, was enough encouragement for me to continue writing in that genre. Soon, I had enough tunes for a full album, then another, then another. The live children's shows began soon after!
WHERE IS YOUR FAVORITE PLACE TO PERFORM? IS THERE ANY PLACE YOU WOULD LIKE TO PLAY A SHOW BUT HAVEN'T YET?
I've been fortunate enough to play so many great venues. The Gothic Theatre is gorgeous. The Bluebird Theatre feels like home. There is a venue in Missoula, MT, called the Top Hat, that does everything right. Of all the amazing venues I've played, I'd have to say my absolute favorite is Bookbar on Tennyson St. It's a bookstore/wine bar/coffee shop where I've been doing my monthly Happier Hour Storytime shows for about 5 years. From the venue, to the staff, to the regular crowd, everything about Bookbar is top shelf. When the pandemic hit, we moved into the online space, but this month we'll be going back to in-person shows, on the Bookbar patio, and I couldn't be more excited!
WITHOUT OVERTHINKING IT, TELL US 3-5 INTERESTING FACTS ABOUT YOURSELF THAT NOT TOO MANY PEOPLE KNOW ABOUT YOU.
I have a degree in Exercise Physiology. My first band was called 'The Brad Weaver System' (I didn't come up with the name, the bass player did!) Although I play quite a few instruments, up until last year, I could not figure out the kazoo. I finally got it!
WHO ARE SOME ARTISTS YOU LOOK UP TO AND WHY?
As far as early influences, I always put it like this: Metallica made me realize the power music held. Pearl Jam made me want to write my own songs. Neil Young made me realize I could.
WHAT IS SOMETHING YOU WISH TO ACCOMPLISH AS A MUSICIAN?
I want to introduce the power of music to as many folks as I possibly can.
DID YOU PLAY ANY INSTRUMENTS IN SCHOOL?
In the fourth grade, I played the recorder (just like every fourth grader on the planet!), and I played the trumpet in junior high. I didn't pick up the guitar until I was about 18.
HAVE YOU EVER HELPED SOMEONE ELSE WITH YOUR GIFT?
The Rough Cuts had a regular gig at Children's Hospital. That was incredibly rewarding.
I've also done shows for Habitat for Humanity and Easter Seals. I've also done a song for a wonderful organization called 'Sing Me a Story.' They collect stories and drawings from hospitalized children and have songwriters, like myself, turn them into songs. All the money raised goes to various other nonprofits serving children in need. My tune 'Lot's of Dinosaurs' was based on a story written by a young boy named Noah.
Another cool thing I've been involved with is 'Songs for Jake.' Sami's brother has severe Cerebral Palsy, and cannot communicate verbally, but is a huge music fan. I came up with the idea to record a video, each week, of us playing a tune and send it to Jake. It wasn't long before Sami started thinking bigger and recruiting our many musician friends to record songs as well. We continued Songs for Jake as a weekly YouTube series, for several years. We had a lot of fun and it brought a lot of happiness to a very special person. (See all the videos here)
On the topic of fundraisers, one more thing I'd like to mention is a fantastic telethon I will be a part of next month. On June 5, I will be playing a few songs during the 'Switch On Global Telethon.' As the name states, it is an international telethon hosted by a fantastic Australian Organization called 'Music Matters.' The telethon will benefit several environmental and animal welfare nonprofits. You can find more info here.
WHAT IS ONE OF YOUR FAVORITE ITEMS YOU TAKE ALONG ON ROAD TRIPS AND IS SOMETHING YOU CAN'T LIVE WITHOUT ON THE ROAD?
Never underestimate the magic of a good pair of headphones. When you're stuck in a van for weeks at a time, you need to create some alone time.
WHAT'S THE BEST ADVICE YOU'VE EVER BEEN GIVEN AND WHO GAVE IT TO YOU? HOW BOUT THE WORST ADVICE SOMEONE GAVE YOU?
I can't recall any bad advice, but as far as the best, I was once complaining about not being able to write and sing like one of my favorite artists. My brother Brandon looked me in the eye and said, 'All you need to do is write and sing like Bradley Weaver.'
DO YOU HAVE ANY ADVICE FOR UPCOMING MUSICIANS JUST GETTING STARTED?
See the above, but replace 'Bradley Weaver' with your own name.
WHERE IS YOUR FAVORITE PLACE TO WRITE MUSIC?
Whenever ideas hit me I collect them in my phone. When I get some time in my home studio (Where's Izzy Studios), I see what I can do with them. Most of the actual writing takes place in the studio. Aside from the Sonny Trench Foot riff rock I spoke of earlier, I'd say that about 90% of my tunes begin with a lyrical hook and take off from there. I'll take the original idea and fill a page with anything I can think of related to that idea. I work as quickly as I can with no filter, then I go back and grab the best ideas on the page. Chorus comes first, then a few supporting verses. Decide if it needs a bridge or a solo(s), then rewrite, rewrite, rewrite.... I may have completely over simplified a very complicated process, but when you do something for so many years, you learn what works for you and what doesn't. The secret is that the 'rewrite' stage can take anywhere from an hour to a year!
ANY NEW MUSIC COMING SOON? WHO DO WE CONTACT IF WE WANT TO BOOK YOU?
I've got enough ideas to do another family-friendly EP as well as another album of lullabies. It's just a matter of finding the time to lay them down! I've also got a 2nd coloring book ready to go, so look for that in the next few months. I do all my booking through Roger Charlie. You can find all the info on the contact page of my website.
Thank you- Big Red